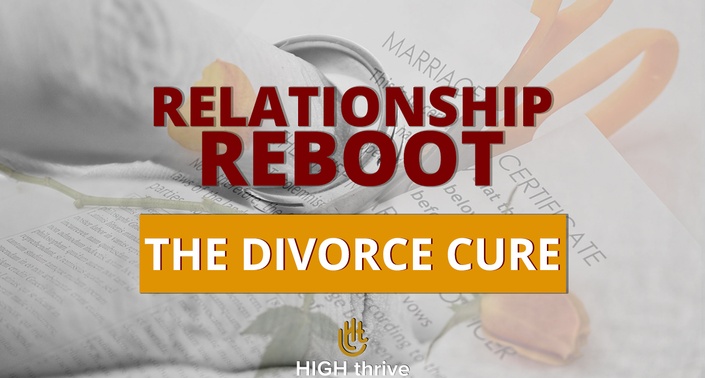 Divorce Cure Course
Have the #1 most important aspect to saving your marriage, guidance from an expert who has helped thousands of couples...
Watch Promo
DIVORCE CURE is a complete marriage restoration coaching program that will help you open up real communication, lessen tension, change the story leading to your spouse wanting a divorce and "buy you 6 months of time" so you can fully restore your marriage.
Our Proven DIVORCE CURE Method Steps in Your Program:


Step 1- We Open Communication: (Yes, you will finally have open, real communication with your husband/wife!)
Step 2- Buy Time: We show you how to encourage your husband/wife to agree to give you 6 months of time to work on the relationship because we've proven time and time again that if we can slow down the process of divorce/separation/distance and gain 6 months of time, the opportunity to fully restore the marriage GREATLY INCREASES!
Step 3- We Change Their Narrative: We show you how to help your husband/wife change the story that they have created about you and the relationship. This builds hope in them that they can be happy with you again and is a necessary part of the process many other counselors/coaches/pastors, etc. totally miss.
Step 4- With that hope, we are able to Fully Restore The Marriage! We show you how to create healthy boundaries to restore trust, open healthy communication and deepen intimacy and connection ensuring that we solve any problems at their roots for lasting change and happiness for you and your husband/wife both.
Your Instructor
International Marriage Experts, Marc Johnston and Heather Choate, help save marriages where one spouse is checked out of the relationship. Their proven step-by-step system is designed to help you reconnect with your spouse quickly and create the thriving marriage you crave. Whether you need to improve communication, restore trust, deepen intimacy or renew commitment, High Thrive Coaching will help you get there fast and guide you on how to make those changes last. Life is short and time is precious. Above all, you and your marriage are worth it!
Two years ago, we (Marc Johnston and Heather Choate) came together to create a program that would truly transform people's marriages and lives. We believe marriage is the basic foundation of happiness and fulfillment in life and it is worth every effort to preserve, protect and sustain. We were heartbroken to the state of suffering so many couples go through in their marriages and wanted to make a real, lasting difference.
That's when High Thrive Marriage Workshop was really born.
We started pouring hundreds of hours, thousands of dollars and years of intellectual, spiritual and emotional bandwidth… and we've distilled everything down into a streamlined process, that you can now access, use and implement to achieve connection, better communication, increased intimacy, restore and build trust, security and consistency, and, more than anything else, create a marriage and life you can be proud of.
We have each gone through our own personal challenges and have applied the principles and practices we teach into our lives and they have not only transformed us personally, but also the numerous clients we've had the privilege to serve. If we were to put a price tag on the journey you've just embarked upon, based upon the improvement it will have in your marriage and life, that number would be in the millions.
Course Curriculum
Live DIVORCE CURE Course
Available in days
days after you enroll
Warm-up Videos
Available in days
days after you enroll
Premilinary Exercises
Available in days
days after you enroll
"My marriage is not where it used to be!
I had no idea how to get there on my own. We already had divorce papers started and spent so much money on the legal fees already. I realized if I was willing to spend money to end my marriage, why wouldn't I be willing to invest money to save it?
But I didn't know where to start. I needed the help and direction that Marc and Heather gave me.

There is a connection so different from the past. There is a gentleness and love between us.

I owe so much to them for all that they've done for our family.
I can't recommend them enough!"

Kristin, High Thrive client
August 2017