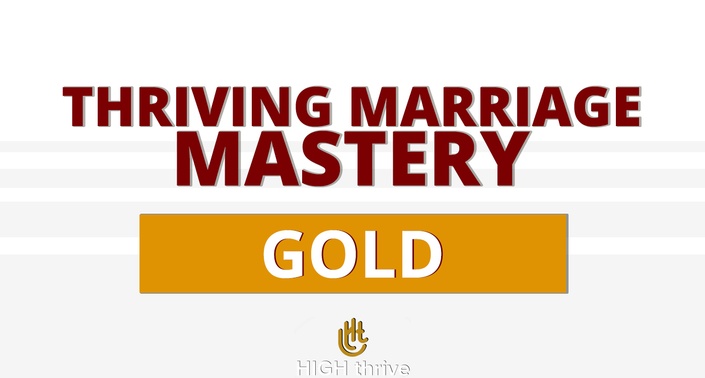 Gold Thriving Marriage Mastery Membership
THRIVING MARRIAGE MASTERY is a complete marriage membership program that will help you.
Ready to take your marriage to the next level?
THRIVING MARRIAGE MASTERY is a complete marriage membership program that will help you:
Improve Communication: We go deeper than any book or program you've done before to uncover the "root issue" of your communication challenges and resolve them for good.
Lessen Tension while Increasing Unity: Learn effective problem solving and how to work together as a team so you can have peace and comfort in your home.
Strengthen/Rebuild Trust: Feel secure in your marriage as you learn to set healthy boundaries, resolve any past pain, and meet each other's true needs so you and your spouse crave being with each other.
Ignite Your Intimacy: Go from "roommate syndrome", "co-parents," or "stale spouses" to getting that spark back in your marriage so you can increase the fun, passion and closeness again!
Restore Hope: No matter where your marriage might be at currently, you will know exactly what you need to improve, deepen connection and have a marriage you are proud of!
Have you been wishing your marriage were better for a long time now?
You know what I mean ... that nagging feeling deep in your gut that says your relationship can be so much better than it is. But you seem to continue spinning through the same cycles and the problems are only getting worse?
Well guess what ... that's because YOU haven't had the right solutions.
YOU are stuck in your pain because you're focused on the wrong things, over-thinking everything, and you don't have the right relationship tools in place.
YOU are working hard and may even have done counseling or worked with your pastor but you still aren't getting the results you need in your relationship.
YOU are overwhelmed and not getting your needs met and neither is your spouse, leaving you both feeling frustrated and afraid.
What you need is a plan of action. You need a system to follow so you can feel confident in yourself, in how you communicate with your spouse, and finally solve problems in the right order.
The EXPRESS Relationship Restoration Coaching program is different than therapy of any other self-help because it combines proven step-by-step phases, and actionable exercises, to get you the results you want.
Your Instructor
International Marriage Experts, Marc Johnston and Heather Choate, help save marriages where one spouse is checked out of the relationship. Their proven step-by-step system is designed to help you reconnect with your spouse quickly and create the thriving marriage you crave. Whether you need to improve communication, restore trust, deepen intimacy or renew commitment, High Thrive Coaching will help you get there fast and guide you on how to make those changes last. Life is short and time is precious. Above all, you and your marriage are worth it!
Two years ago, we (Marc Johnston and Heather Choate) came together to create a program that would truly transform people's marriages and lives. We believe marriage is the basic foundation of happiness and fulfillment in life and it is worth every effort to preserve, protect and sustain. We were heartbroken to the state of suffering so many couples go through in their marriages and wanted to make a real, lasting difference.
That's when High Thrive Marriage Workshop was really born.
We started pouring hundreds of hours, thousands of dollars and years of intellectual, spiritual and emotional bandwidth… and we've distilled everything down into a streamlined process, that you can now access, use and implement to achieve connection, better communication, increased intimacy, restore and build trust, security and consistency, and, more than anything else, create a marriage and life you can be proud of.
We have each gone through our own personal challenges and have applied the principles and practices we teach into our lives and they have not only transformed us personally, but also the numerous clients we've had the privilege to serve. If we were to put a price tag on the journey you've just embarked upon, based upon the improvement it will have in your marriage and life, that number would be in the millions.
"We were so stuck in our marriage. Years of bad habits and not treating each other as we should have. But we really didn't know how to handle it any different. Felt like we'd spun around in circles for years. Biggest win so far is knowing how to understand each other. Feels amazing to know my husband understands where I'm coming from. Our marriage is so far from where it was!"

-Beth, Thriving Marriage Mastery MemberAugust 2018

Frequently Asked Questions
Should my spouse do this program with me?
No. We actually recommend spouses go through the course on their own, even if they are wanting to do it together. The reason is, you need to take full responsibility for your part in the relationship and you can only do that on your own.. If your spouse is open and willing, they are welcome to do so at no additional cost but note that only one username and password will be given per couple. Both spouses may also attend the group coaching sessions if a Platinum member.
Can I cancel at any time?
Yes, but you'll miss a lot of good stuff :)
Do you offer refunds?
Your satisfaction with your Program, Product or Service is important to us. Yet, because of the extensive time, effort, preparation and care that goes into creating and/or providing our Programs, Products, Services and Program Materials, we have a no refund policy. Unless otherwise provided by law, you acknowledge that we do not offer refunds for any portion of your payment for any of our Programs, Products, and Services, and no refunds will be provided to you at any time. By using and/or purchasing any of our Programs, Products, Services or Program Materials, you understand and agree that all sales are final and no refunds will be provided.
We've already tried counseling, or are thinking about counseling, how is this program different?
Traditional counseling meets once per week for 45 minutes up to 90 (if you're lucky). We realize that to truly improve your marriage and focus not just on the "symptoms" but the actual "roots of the issue", the situation warrants more attention and more effort. That is why we offer one-on-one sessions (coaching upgrade), twice weekly group sessions (group coaching upgrade), workshop material, and actionable homework assignments. We want to give you all the resources, tools and skills you need to succeed. Beyond that our approach combines the good parts of traditional counseling (an objective point of view, insightful questioning, and an expert knowledge of the subject) with more of a guiding hand. We ALWAYS give actionable steps to take with every one of your concerns, we focus EVERYTHING on marriage and relationship problems which means we have detailed plans on how to fix just about any problem, and unlike traditional counseling, we have specific overarching plans on how to go from any problem to a thriving marriage.
Our marriage is in serious trouble. There's talk of separation or divorce (or even action) or my spouse is completely "checked out. Will this program work for
Yes, this program will give you great resources to solve these issues, however to get a more complete solution, we recommend you join Relationship Reboot which is our proven step-by-step program to help you reconnect with your spouse and restore your marriage quickly. We also recommend immediate individual coaching to resolve more complicated and intense issues. To learn more about Relationship Reboot, go here. To learn more about our Individual Coaching Programs, go here.